South Florida Dog Training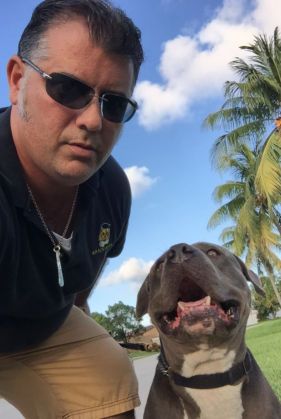 August 31, 2010 By: Jennifer Fiala For The VIN News Service:
Veterinarians are trying to discern whether roughly a dozen dogs testing positive for hypercalcemia and consuming the same high-end diet is merely coincidence or a problem with the pet food in question.
The reports have cropped up on the Veterinary Information Network (VIN), an online community for the profession and parent of the VIN News Service. In message board discussions, veterinarians have revealed cases of hypercalcemia secondary to vitamin D toxicosis occurring in dogs that eat a single brand of dry pet food: Blue Buffalo Wilderness Diet, chicken flavor. In each of the cases, veterinarians report that dogs' conditions have improved after switching brands.
So far, nothing concrete has identified a causal relationship between the food and illnesses in dogs. The U.S. Food and Drug Administration (FDA), while reportedly alerted to adverse events tied to the food, has not prompted a recall, though the VIN News Service has been unable to reach officials with the regulatory agency directly.
Officials with Wilton, Conn.-based Blue Buffalo report that "tens of thousands of dollars" and hundreds of hours have been spent analyzing various batches of dog food, including samples from bags directly linked to specific cases of dogs testing positive for hypercalcemia and vitamin D toxicity.
Richard MacLean, vice president of business affairs, says one thing is certain: Test results thus far have shown nothing unusual about the product's formulation; amounts of calcium and vitamin D, in particular, are within the company's specifications and well below levels that might be considered toxic. The company's focus has been on Blue Buffalo Wilderness Chicken Recipe, manufactured in April 2010 with a best-used-by date of July 2011. Vitamin D toxicity, or hypervitaminosis D, induces bone loss and abnormally high serum calcium levels, which could result in kidney stones and the calcification of organs like the heart and kidneys if left untreated.
"We really do take very seriously our commitment to providing health nutrition to pets," MacLean says. "From the moment this issue came up, we are looking to find out if this is something we can do something about."
Dr. Joy Mueller, a veterinarian in Santa Rosa, Calif., says the condition isn't one that an owner will likely miss.
Recently, her two-year-old Australian shepherd became lethargic, releasing copious amounts of extremely dilute urine throughout her house and drinking large amounts of water. Heeding the red flags, she tested the dog's blood and noted elevated calcium levels and a low platelet count. Hypercalcemia is often associated with kidney cancer and lymphoma.
Yet after ruling out possible problems with kidney function, Mueller turned to the Blue Buffalo Wilderness chicken and turkey flavored dry food that the dog had been eating for two weeks and changed brands.
The result was dramatic; the dog's condition improved within 24 hours.
Mueller came to the association between the food and her dog's condition independently of the VIN discussions on the topic, though she did not test her dog for elevated levels of vitamin D and cannot be certain that toxic levels of it prompted the animal's illness. Still, she e-mailed the VIN News Service last Friday to spread the word about her findings to other veterinarians.
Reflecting on the turn of events, she says: "Vitamin D toxicosis was not my first thought. Various types of cancer including kidney cancer were the big rule outs. I wasn't thinking food until I switched him."
While Mueller believes that the food is tied to her dog's condition, she suspects the reaction was idiosyncratic.
"It's such a dramatic response that if a large number of dogs that ate this food had it, you would hear about more cases," she says. "You can't miss it peeing all the time and going through gallons of water.
"I suspect this has more to do with the dogs than the food," Mueller adds. "I'm thinking beyond vitamin D. There may be dogs that have a genetic predisposition to the developing this condition after eating this food. It's quite a mystery."
Dr. Kathryn Cochran, a practitioner in Michigan, agrees. She reports that dogs of two different clients were examined in the practices where she works on June 30 and July 16. Both presented with hypercalcemia and test results showed high levels of vitamin D.
Another common thread: Both ate Blue Buffalo Wilderness Diet, chicken flavor, purchased at a PetSmart in Traverse City, Mich.
Cochran's employer, Dr. Charles Morrison, posted the cases on VIN, and called the company. As a result, Blue Buffulo's MacLean reports that seven bags were pulled from the Traverse City PetSmart, and tests were conducted on two. He reiterates that nothing unusual has come back on any of the samples analyzed by the company's labs.
Cochran reports that the dogs have since recovered after being switched to a different brand of pet food. She notes that Blue Buffalo has been proactive about paying for tests, sending out claim forms and preparing to make restitution to owners if the product is found to have caused illness.
She's concerned that other cases might not be identified.
"I've been tearing my hair out trying to get people to talk to me on this," she says. "Maybe there are more cases out there like this."
Experts in the field of diagnostics think so, too. Dr. Kent Refsal, an endocrinologist with the Diagnostic Center for Population and Animal Health at Michigan State University, works at one of the only veterinary labs in America running tests for vitamin D toxicity.
"So if a veterinarian has an animal with an abnormality of calcium, they go through a list of differential diagnoses," Refsal explains. "Our tests can help sort through that. In terms of the kind of test outcomes we get, we do not see many instances that raise concern for vitamin D toxicosis."
Considering the rarity of such events, Refsal took notice when the sample from Cochran tested positive for elevated levels of vitamin D.
Three weeks later, when Refsal received two samples in the same assay run from dogs in Texas showing evidence of vitamin D excess, he contacted the clinics in question and was informed that the dogs were eating food from Blue Buffalo.
Since then, Refsal reports that similar tests results from two dogs in Colorado have Blue Buffalo-produced food as the common factor. The lab, he says, has contacted the Michigan Department of Agriculture with the findings, though the VIN News Service could not immediately reach agency officials concerning the cases.
"If someone is presented with a question of vitamin D toxicosis, you first wonder whether the animal has been put on some kind of unusual dietary supplement. Our assay is just an indicator of vitamin D intake. It does not specify the source of it," Refsal says.
Apart from diet, there are other possible explanations for hypervitaminosis D in animals, including exposure to vitamin D analogs like calcipotriene-based psoriasis creams or pest control products made of cholecalciferol.
Veterinarians like Mueller say those explanations are highly unlikely, and even MacLean, of Blue Buffalo, believes that it's possible that there is a relationship between the food and the handful of sick dogs eating the product.
Yet, he cautions, no one has scientifically proven the link. He also notes that reports of at least three other dogs exhibiting signs of hypercalcemia and elevated vitamin D levels without a connection to Blue Buffalo products have surfaced on VIN.
MacLean reiterates that the company's tests of its dog food have come back as low to mid-level for vitamin D content.
"Everything that we have suggests that it's not our food," he says. "We have 30,000 bags of this stuff out there and literally a dozen animals that have a common symptom. On an incident rate, that doesn't invite the conclusion that there's something defective about the product."
link: http://news.vin.com/VINNews.aspx?articleId=16468
We are K9 ADVISORS Dog Training in Hollywood, Florida with trainers all across Florida. K9 ADVISORS Dog Training has trained thousands of dogs all over Florida in basic to advanced training, protection training, therapy training, and service dog training. No matter what your needs are we will train your dog to fit your needs, regardless of age, size or breed. Call for a FREE consultation!
My specialties are:
Solving Severe Dog Behavior Problems
Training Advanced, Off-Leash, Obedience
Developing Obedient Family Protection Dogs
Executive Protection
Training Dogs for Business Owners and Families.
The advantage to working with me is that the dog will be trained in an extensively tested system that works! Any owner will see amazing results in the very first lesson. Contact me today to schedule an appointment for your dog's training.