Trained Adoptable Dogs
I need your help! It is with a crushed heart, I have to find my beloved Mojo a new home. If you know of anyone who would provide my Moe a loving, safe and secure home, please forward as you see fit. Thank you so very much!!!!!
Below, find recent photos and bio:
Approx. 3 years old
Soulful eyes
Obedient
Neutered
100 lbs.
Good snuggler
Housebroken (he's too much of a gentleman to go in the house!)
Protective
Shepherd mix
Appreciative
Handsome
Back story:
Moe was rescued from the streets of Miami in August of 2014. He had a home, but the owners moved and left him behind. Neighbors and a local hot dog vendor fed him and helped him sustain his life. I saw a FB posting while I was in Miami and figured I would get him off the streets and foster him.
Immediately after peacefully getting Mojo in to the backseat of the car, I fell in love with this gentle giant! He had "eye boogies" in his eyes and he allowed me to clean them. The rest is history!!! How kind and gentle! He let a complete stranger clean his eyes. I had to keep him!!!!!
He gets along beautifully with our other 4 dogs, big and small, but is clearly the leader of the pack.
He is incredibly loyal, obedient, protective and amazing with our other dogs and children.
He does need a strong "master" who will clearly define their role as Alpha!
Before considering adopting Moe, please check with your community HOA, etc. to make sure there are no size restrictions, etc.
Thank you for your consideration and interest in giving Mojo a safe, loving forever home! Will transport for the right home.
Please feel free to contact me with any questions you may have.
Julia
561.212.4664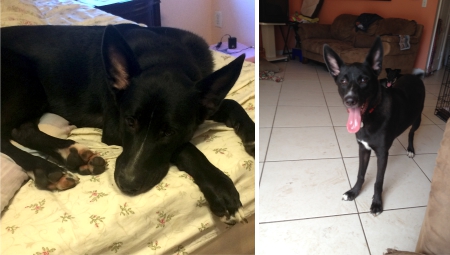 Jasper-Beautiful, 9 month old, Black & White Australian Cattle Dog/Ibizan/German Shepard.
Wonderful Disposition. Loving, Sweet, Good with other dogs and really wants to play with cats. Very Smart, learns quickly. High energy & goofy. Loves to play catch & tug of war (Especially with other dogs!).
Jasper was born under A large pile of debri in A Ft. Lauderdale boat yard where his mother tried to nest for a couple of weeks it seemed before delivering her 7 puppies. When the puppies were about 3 days old it took multiple people to dig them out & were taken to a High-Kill Broward shelter.
They were left in a cold concrete hallway & were set to be euthanized. The family was
rescued about a day later by Saving Grace & Her Furry Friends and he was adopted at about 9 weeks old. Due to no fault of his own, Jasper was returned to the rescue at 6 months old and is looking for his loving, forever home, where he belongs.

For additional info on Jasper, please call Stefanie (954) 562-8813, Teri (561) 400-1848
or e-mail savinggracefl@gmail.com or for an adoption application, http://www.savinggracefl.org



Jenny - Approx 3 years old
Cane Corso/boxer mix
Female - spayed
Brindle (black brown and tan)
80 lbs
Current on all vaccinations
Healthy
A very affectionate dog that loves to cuddle. She thrives on positive attention and will do anything for praise. She still has a lot of spunk but is very well behaved.
Jenny has been given basic training. She is great on a leash, but will charge toward other animals if given the chance. She can sit, shake, lay down, and stay.
Contact is Liz 214-695-0109 Or text Edel at 786-419-3647 if you cannot reach Liz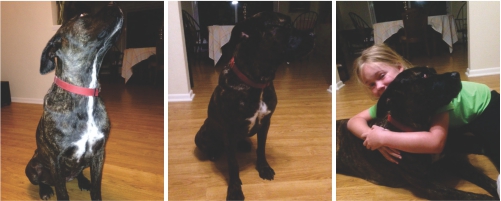 Forrest - Approx 7 years old
Vizsla/retriever mix
Female - spayed
Reddish/tan
65 lbs
Current on all vaccinations
Healthy

A very low-maintenance, athletic dog that loves to go on runs (she did a 13 mile run when she was younger). She doesn't require a lot of attention, but loves it when she gets it. She is very loyal and is good with children.
Forrest has been given basic training. She is great on a leash. She can sit, lay down, and stay.
Forrest has had a small incontinence issue since she was young. She takes hormone pills which prevent any issues.
Contact is Liz 214-695-0109 Or text Edel at 786-419-3647 if you cannot reach Liz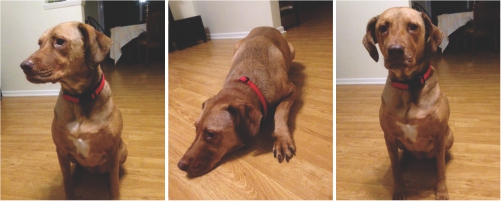 Godiva is 4yrs old.
DOB 12/15 (3 days after I got married) 68lbs. Two weeks ago she had her 6 month check up which she is up to date with everything until the summer.
I can get you her medical records. She takes monthly heartworm preventive pill I don't remember the name. I have it at home. I give her the flea and tic preventive drops. She started two weeks ago rimadyl twice a day for her hips to help with pain. I was told the other day by vet that I can give her something to help with joints, the stuff people take. She gets her teeth cleaned 2 times a year. I have the wellness plan that covers a lot.

Contacts are Inga of Lady Luck Rescue 561-302-3624 / Kate of Lady Luck Rescue 754-366-3669 or text Edel at 786-419-3647 if you cannot reach Inga or Kate.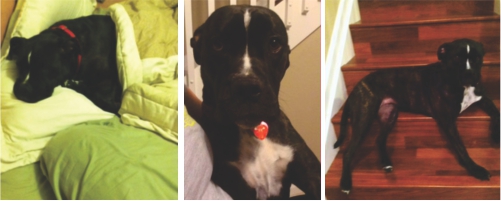 Video of a Pit that needs a home in away from Dade county b/c as you know, the ban was not lifted. BTW, this is a great dog!! I met him.. he is good with little dogs, big dogs, people, kids, everyone. For more information call Edel 954-923-3440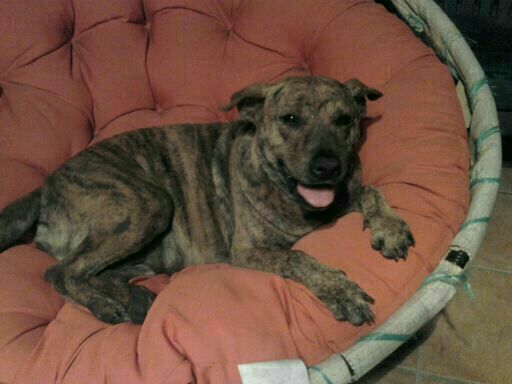 This is Angel...I rescued her 6/24 from a gas station...she came to me hungry and ate the cat food I had in my car to give to the strays. Please help me to help her get a home...I would LOVE to keep her, but I already have FIVE in a condo. She is AMAZING!! In only a matter of TWO days, she made REMARKABLE changes with me. She started out with her tail between her legs and now she is trusting me, loving me, and wagging her tail. She is medium-sized (probably about 45-50 pounds)...She is probably middle-aged (best guess around 7-ish). She hadn't gone to the bathroom at all the first day and second day, until the evening, when I walked her and took her downstairs, and then she did her "business", so she "appears" to be housebroken. I live on the 2nd floor and she was walking DOWN the stairs, but she would not walk UP the stairs and needed assistance, until late in the evening on the second day, and now she is walking UP and DOWN....She is starting to get used to walking on a leash (doesn't want to always come just yet, but also doesn't pull at all)...She hasn't barked or growled AT ALL, even being left on the patio, which I did at first, wanting to keep her away from my other dogs, where she remained quiet and in her favorite spot in my papisan chair as you see her! She appears to have had babies not too long ago, as her breasts are sagging now from the breast feeding she was probably doing (but she is not lactating anymore)...My heart goes out to a mom who is not with their children anymore, especially when they could've been separated from them unexpectedly as could've been the case with her...Angel needs love!!...She is very submissive and docile and not much seems to bother her, although she seems quite sensitive. She is currently around another dog and seems to be fine. Ideally, it would be great for her to get all the love to herself, but I do not think she would have an issue being in a household with other dogs. I do not know how she is with cats. She is affectionate and lets you kiss her on the face and on her nose and will give you kisses back. In the short time that I have had Angel, I fell in love with her...Please love angel as much as I do and treat her as a member of your family, if you want her. Please give her the chance she deserves and if you choose to adopt her, please don't do anything to her that you wouldn't want done to yourself. She came to me as my "ANGEL" from up above!! If you take her into your heart and your home, I know you will feel the same!! Please call Heather at 954.534.5606 and make sure to leave a name and number for me to call you if you are interested.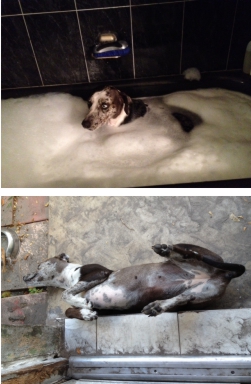 Mimi is a very sweet girl. She is friendly with people and other dogs. She has not been around kids or cats, but I assume her temperament would be great. She has been around a dominant dog and she does not try to be dominant. She has blue eyes and weighs 40-45 lbs. She has mainly lived outside but behaves inside. She knows basic commands. Her owner will be traveling for business frequently and cannot give her the attention she needs.

Her owner is traveling on Saturday July 7th and needs to find a home for her then. She has a foster home available but not until July 26th.
Contact info : Alex Drako 305-791-6116

"Casey" 8 month old, spayed female, chocolate lab mix, 42.8 lbs and vetted. She's very mellow, great with kids /cats/dogs and crate trained. Looking for a foster or forever home. If interested contact Kathy 305 401 4693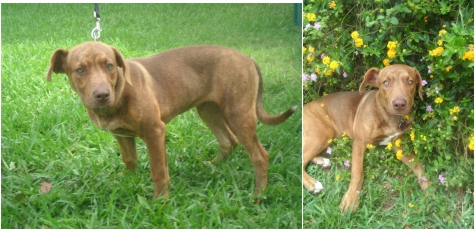 Hi! My name is Scotty and I am a 1 1/2 year old male red terrier mix..I am neutered, microchipped, up to date with all my shots, housebroken, very healthy and friendly with dogs, people and kids. I am VERY loving and will want to cuddle and be around you all the time. I listen very well and will feel right at home in your home! I prefer to be in a home with other dogs to play with but I am just looking for some cuddly love!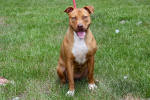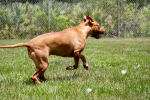 Hi, My name is Hope.
I am a 50 ish lb, 2 year old Red Nose Pit Bull. I have been dubbed a social butterfly. I am very friendly and I love people. I enjoy playing with my toys, playing ball and getting treats. I will sit nicely for a yummy treat. I was rescued off the street by a very kind lady who has been my guardian angel. She tried to find my owner but none was looking for me. She got me fully vetted and healthy and found me a no-kill shelter to take care

of me until I find a forever home. I was only 21 lbs when she found me and look at me now. I am current on my shots, spayed and microchipped. I would benefit from a home where I can get daily exercise. Also, since I never had any formal training it would be great if I had someone to continue working with me on my basic obedience. I am a very smart girl and will learn fast if given a chance. As a nice bonus I come with a free training session for my new owner to help you and me help get me adjusted in my new home. How great is that. I love to meet new friends so I hope to meet you soon. Please contact my rescue for further information on how to meet me and adoption procedures.

Dogs & Cats Forever, Inc. No - Kill Animal Shelter
http://www.dogsandcatsforever.com
4600 Selvitz Road Fort Pierce FL 34981
(772) 489 - 5454 (Please speak to Jay)
DnCForeverInc@aol.com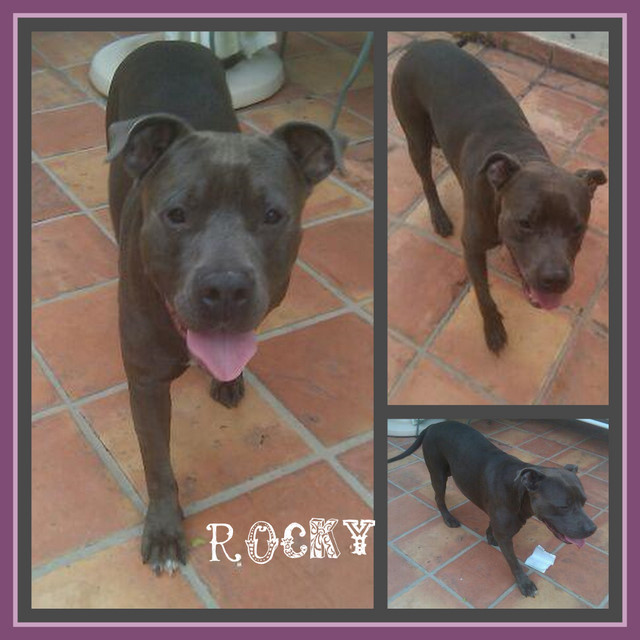 Rocky, beautiful bully boy, 2-3yo great with dogs and kids, Broward County, FL
Rocky is a handsome boy who was loyal to his family who betrayed him. They dumped him on a corner in a strange neighborhood and he waited patiently without moving wondering why they were taking so long to come back and get him. After hours of him sitting there, an animal loving individual brought him inside his home. Rocky swam and played with 15 children at an end of the school year party and got along great with the
male American Bulldog member of the family. But unfortunately for Rocky , he was just dumped in the wrong part of town........Dade
County..........where his breed is not allowed to live. So, Rocky is in a very, very full foster home and needs a forever home right away. Rocky weighs 52 lbs and is between 2-3 years old. He loves people and other animals. Don't know about cats. The only temporary issue with Rocky is that he is going through HW treatment. He is healthy otherwise and he is neutered and micro-chipped. Any family who adopts Rocky will have his complete HW treatment paid for and follow up HW test.

If you want to meet Rocky, call Kathy 305 401 4693.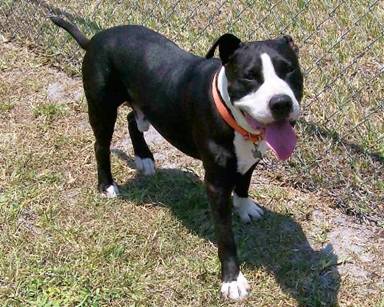 Available for adoption…. June 2011
Duke is a 2 year old American Bulldog. He has been thoroughly
treated by a Vet and is in great health. Clean and shinny. Duke needs a permanent home. He is a very good dog, friendly with other dogs and people. Very nice, mild mannered and he loves attention.
(Don't we all?) He is about 75 lbs. and easy to handle and walk.

Please call Lisa at 561-305-2623 to get more information about Duke. You can also call Danny at 954-260-3744. He is now being fostered in Port Saint Lucie and can be seen immediately. Application for adoption and home inspection will be required. Please help us find a good home for Duke.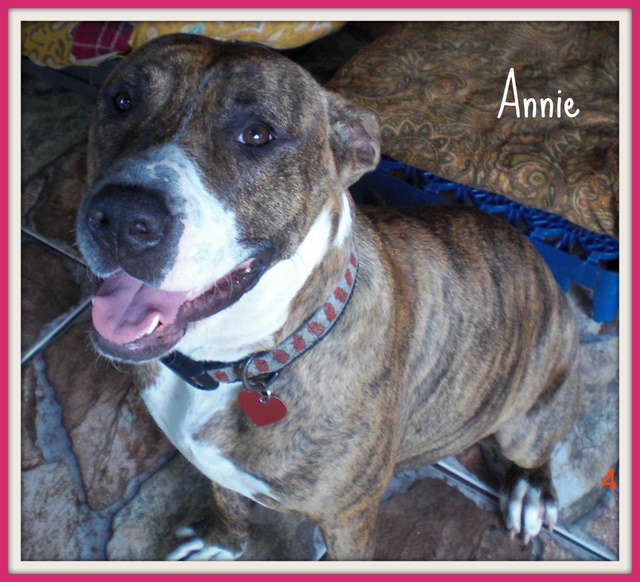 Beautiful Annie was found wandering the street with no place to call home. She is an 18 month boxer /bully mix and is in love with the world. Adults, kids and dogs........well maybe not cats..the jury is out on that one.
Annie weighs about 60 lbs and has been in boarding in an outside facility for 4 months. She is totally vetted, spayed and can't wait to
curl up in her new bed at her new home which she knows is out there waiting for her. Call
Kathy if you would like to meet Annie, at
305 401 4693.
Kathy
My Animals Rock, Inc.,
501(c)(3) non-profit corporation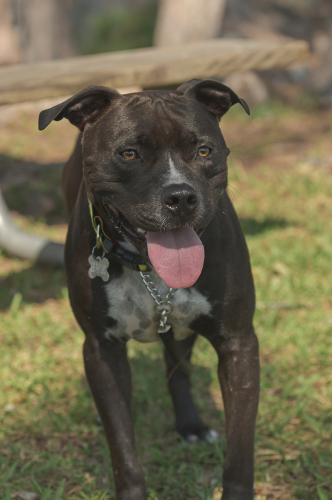 Brewster's situation is dire. He is an American Staffordshire Terrier who needs a home outside Dade County. He is only 18 months old, but
unfortunately has spent 6 months of it in a kennel because no one can adopt him in Dade County. He needs an experienced owner because he is strong and is not good with other male dogs or cats. He was in a foster home with a 5yo and loved him. He loves to play ball, frisbee and walks and car rides and to snuggle. Brewster just wants to live a dog's life in a loving family. He can not stay in a crate much longer and there are not a lot of options left. Please email bstaubin@thisisthedog.com
They are begging for help.

Barbara St. Aubin
This is the Dog! 305-508-PETS

Uchiki

amazing cat needs loving home. 10 lb siamese/ragdoll mix 1 yr old male named Uchiki. blue eyes, gorgeous, neutered, vaccinated, micro-chipped, indoor only. super sweet, loves to play but is not hyper, great with kids, gets along great with other cats. comes w/accessories (toys, bed, collar, scratching post, litter box...)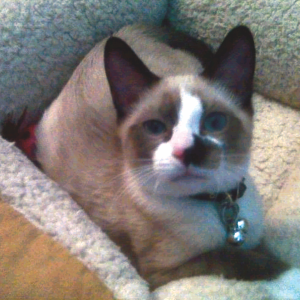 Grace

Hi everyone! I am dictating this email to the nice lady that is letting me camp out in her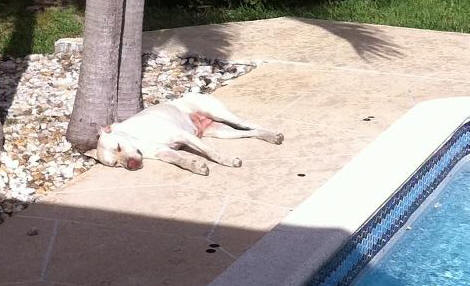 backyard, in the hopes that someone can take me under their wing and help me find a home. A couple of weeks ago, I found myself abandoned on the street after my owner took all my puppies away from me and dumped me. I wandered around for awhile before I found this really nice backyard to take a nap. The people that live in the house came out and gave me food and water and told me that I was really beautiful, but that I couldn't come inside because they have a grumpy ole little dog who will try to overpower me and a nice big dog who has a really bad disease. They said that I could hang out in their yard until they found a permanent place for me to live. I have been there for 2 weeks now and have been no trouble at all. Most of the time I snooze under the palm tree, as you can see in the really cool collage below. When they come out to see me, then I look like the other pictures where I am on my back getting belly rubs and smiling.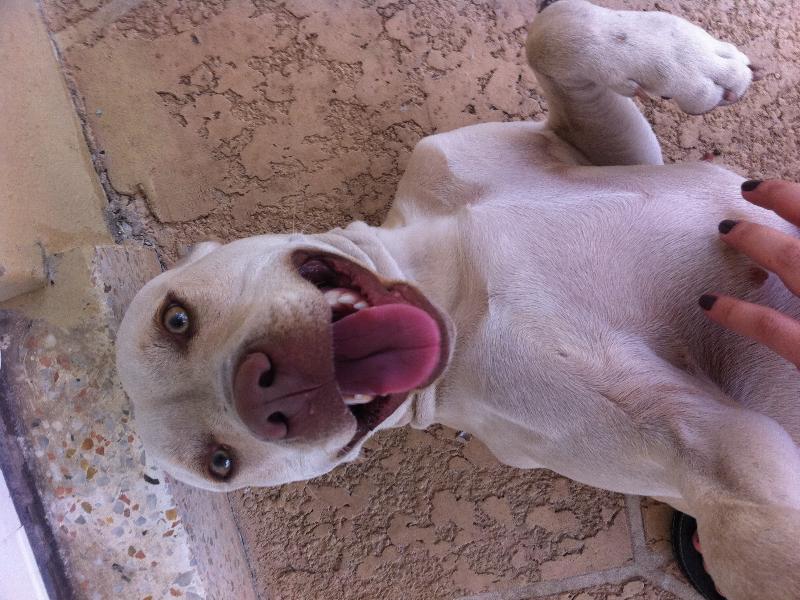 Yesterday a man, who they called a dog trainer, came out to meet me and he brought another dog friend with him to see if we could be friends. He was quite impressed with my beauty and my intelligence. He said I was less than a year old and would be a great working dog since I was so smart and motivated. The friend he brought was much more "socialized " than I am. I wanted to play right away and jumped right in, but I guess I was a little overly enthusiastic. But after a little while, I seemed to catch on and calmed down and was hanging right with my new friend. The trainer said I am a little "impulsive" when I first meet friends so I will need a human to guide me in that department. I love people a lot and I am worried because they said that I am a breed called a "bully" and will have to live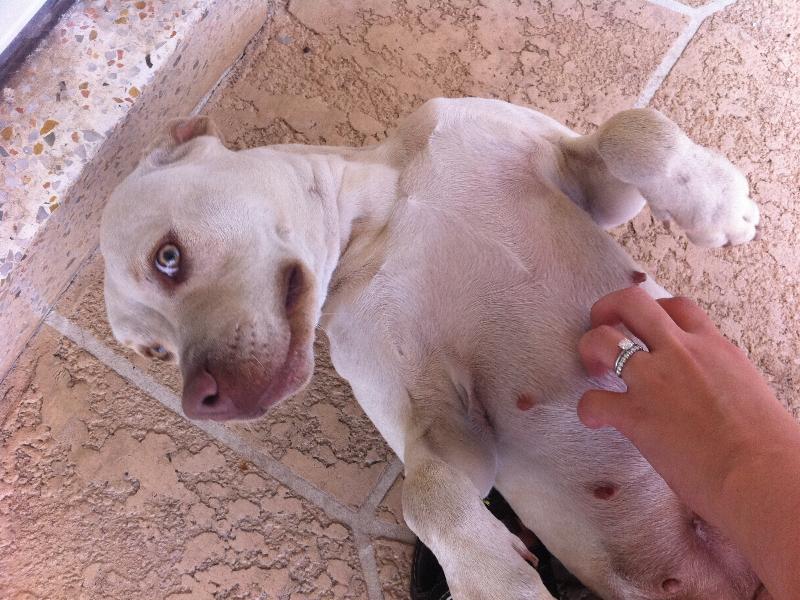 in a county other than Miami-Dade County. They have some kind of rule there doesn't allow "my type"......bummer, cause I really like it here.
Anyway, this is a little bit of an emergency because I only have a week to find someone to help me find a home or rescue. If you can think of someone who would want to have me for their very own, you can call Kathy at 305 401 4693 and she will help you contact the family where I am staying.
Unfortunately, I also heard them say that if no one can help me, they will have to bring me to some animal place.....I don't know what that is, but they didn't say it in a way that makes me feel very safe. Sorry to stress everyone out with the urgency of this, but I really need help fast.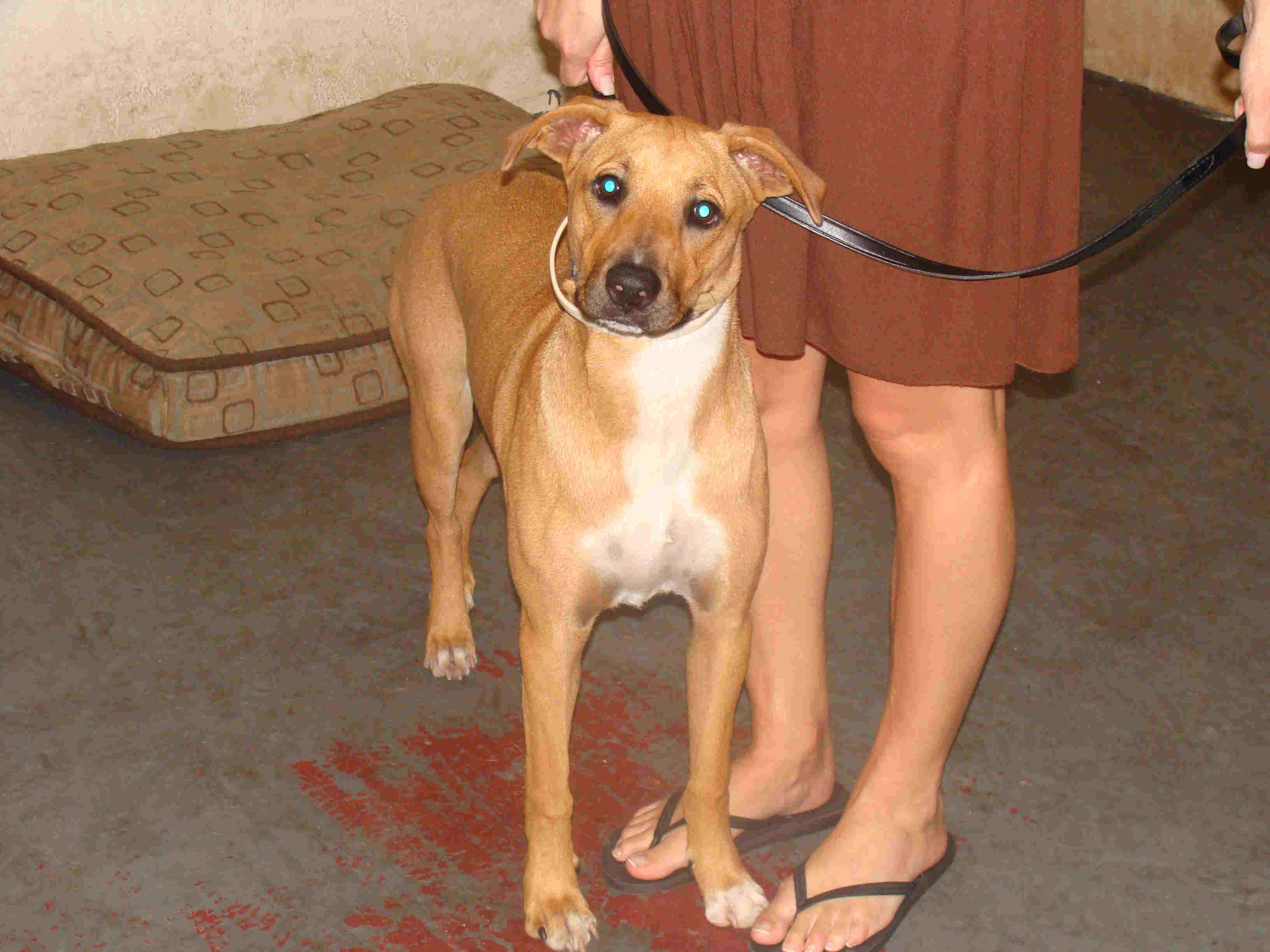 SUNNY
Hi, my name is Sunny and I was born in
Dec 2009. I am currently 10 months old and I am a female, short haired, Lab / Boxer mix.
My current parents adopted me in February 2010 from the Miami-Dade Animal Shelter.
I have been fixed, so I can't have any babies.
I also have all my shots, including rabies.
I am a very energetic puppy and love to play.
"I am good with other
well-mannered dogs and kids"
I started taking obedience lessons with Edel at K9 Advisors and I still have 3 lessons scheduled that you could get if you adopt me. Please Contact Edel 786-419-3647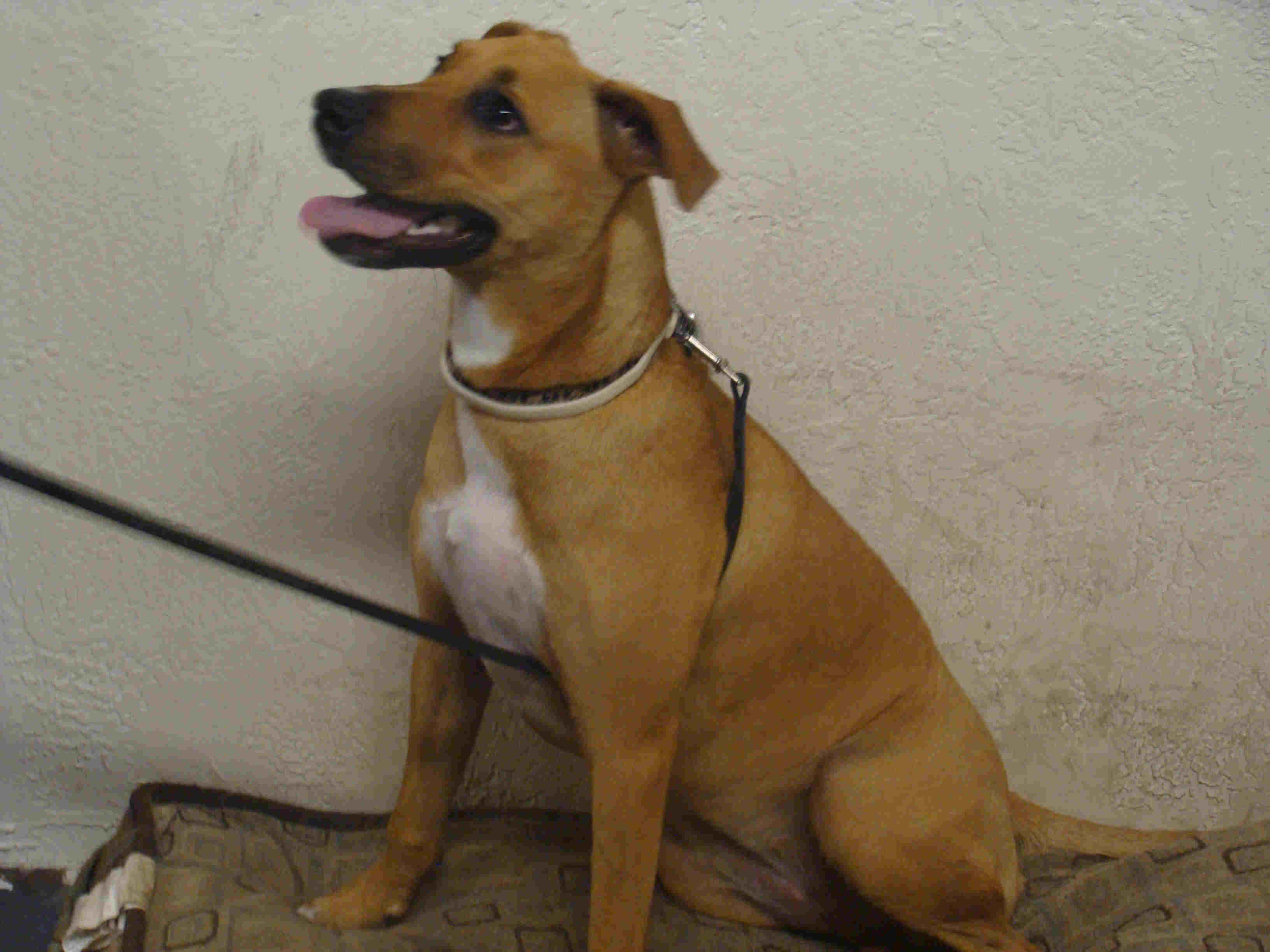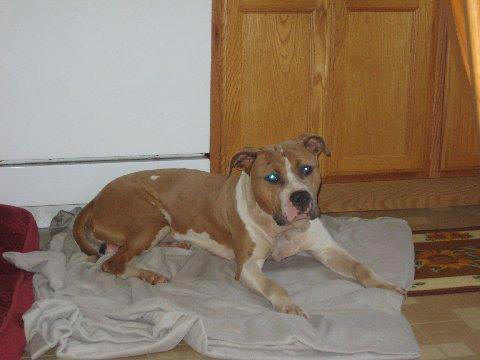 ADOPT ME PLEASE, I NEED A HOME
Petey


Hi, my name is Petey. It wasn't too long ago that I didnt even have a name or a safe place to sleep. I was picked up on a very busy highway they call it I-95 by a very nice lady and a man. They took me to their home, bathed me and fed me. I was really skinny and covered in grease! I am in a house with 5 other canine friends and cats too, but I can't stay here since they have their hands full. I would love to have a permanent home to call my own, maybe with some doggie friends who like to play with me.
I like to play catch and I am a big mush. I will even try to sit in your lap if you are sitting down! I guess I don't know how big I am! I am good with other doggies, kitties, people, and kids! I have been neutered, had all my shots, and have been getting training lessons. I know how to sit, lay down and walk on a leash. I am also housebroken, and crate trained.
I would love to come home with you and be a part of your family!
Please contact us if you would like to meet Petey!
Adoption application and home visit required.
Name: Petey
Breed: Pit Bull
Location: The Underdog Foundation, Miami Florida
Sex: Male
Age: 1yr

CONTACT: NICKOLE KRUPA, DIRECTOR OF OPERATIONS AND ADOPTION
PHONE: 786-488-4565
EMAIL: UNDERDOGFOUNDATION@GMAIL.COM


Sugar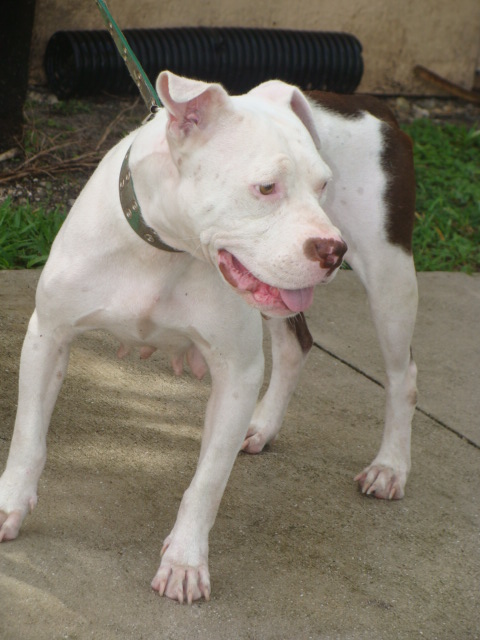 This is Sugar a beautiful little girl who was left in the backyard when the people moved out a week ago. She was left to fend for herself, but some nice neighbor's picked her up to save her from Animal Control. The nice woman that picked her up has 2 dogs and is getting ready to have a baby herself. Her husband WILL NOT allow her to keep Sugar. She was on her way to take Sugar to the shelter 3 weeks ago and called me as a last effort to find her a home. I have been trying with no luck.
Just took her to Miami Dade Animal Services to find out if she is allowed to live in Dade County and she IS! They said she is not 51% pitbull and she has a certification that allows her to live in Miami-Dade County. Sugar plays with the two dogs at the house where she is staying, but I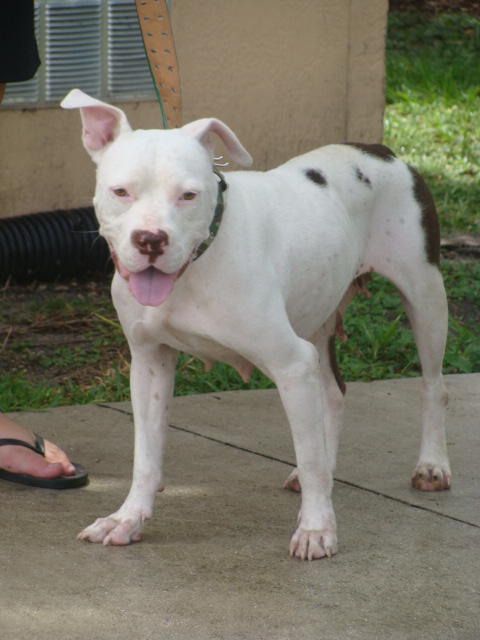 do not know how she will be with all other dogs.
Call me 305 401 4693 or email klcremer@aol.com if you can save Sugar. This really is URGENT. She can't keep her much longer.
Kathy
www.myanimalsrock.org
305-401-4693
"No one makes a greater mistake than he who does nothing because he can only do little". Edmund Burke


Bobbie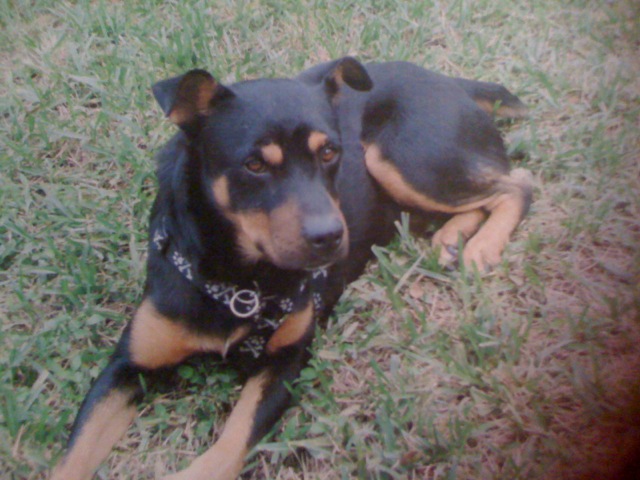 Bobbi was a stray that found his way to a wonderful animal loving family. Unfortunately , he is not good with cats and although they have been trying to make it work, he is too cat unfriendly to be part of their family anymore. He is about 18 months-2 years old and is well behaved, house trained and loves to play.
Small children will not be good with Bobbi as he is too active and rough playing.
If you want to meet Bobbi, please call Kathy 305-401 4693

Kathy
www.myanimalsrock.org
305-401-4693
"No one makes a greater mistake than he who does nothing because he can only do little". Edmund Burke


FRANK IS IN GRAVE DANGER, SHELTER FAVORITE BUT NO TIME LEFT, $200 DONATION TO RESCUE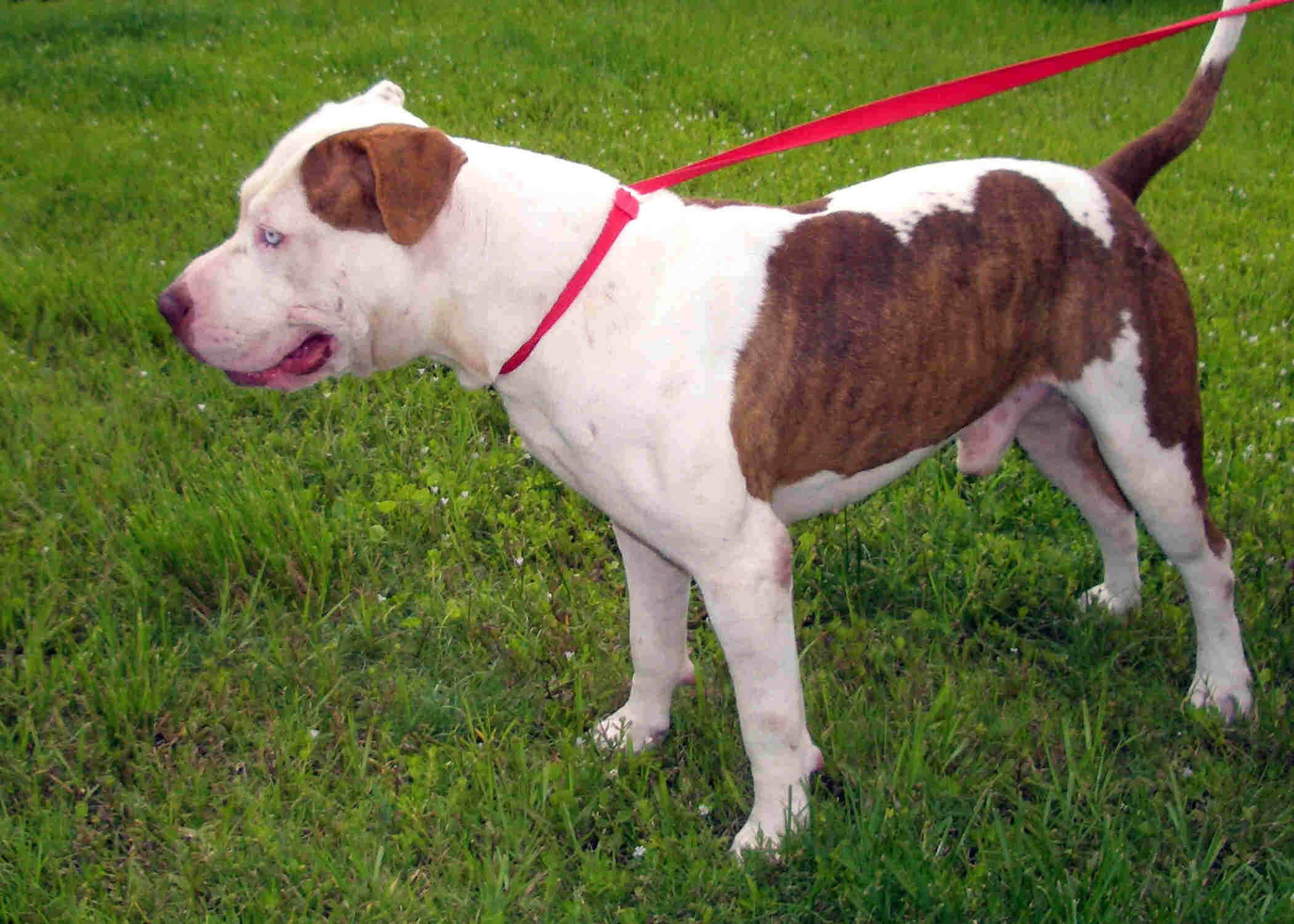 I know another pit bull / am bull mix. But so gorgeous and is on death row at the animal control facility in Naples Florida.
This boy is so playful and sweet. Frank is his name and playing is his game. :) He seems to enjoy meeting other dogs as you can see and I do believe he would make someone a great pet.

This beautiful boy's name is Frank and he is 2 years old. I know so many people would jump up and down and do the happy dance if this boy could get out of the shelter to safety. He gets along great with so many people, dogs, etc. He just keeps being looked over at the shelter and unfortunately that is a bad thing when so many others are waiting to come in. He has been at the Naples Shelter for two months.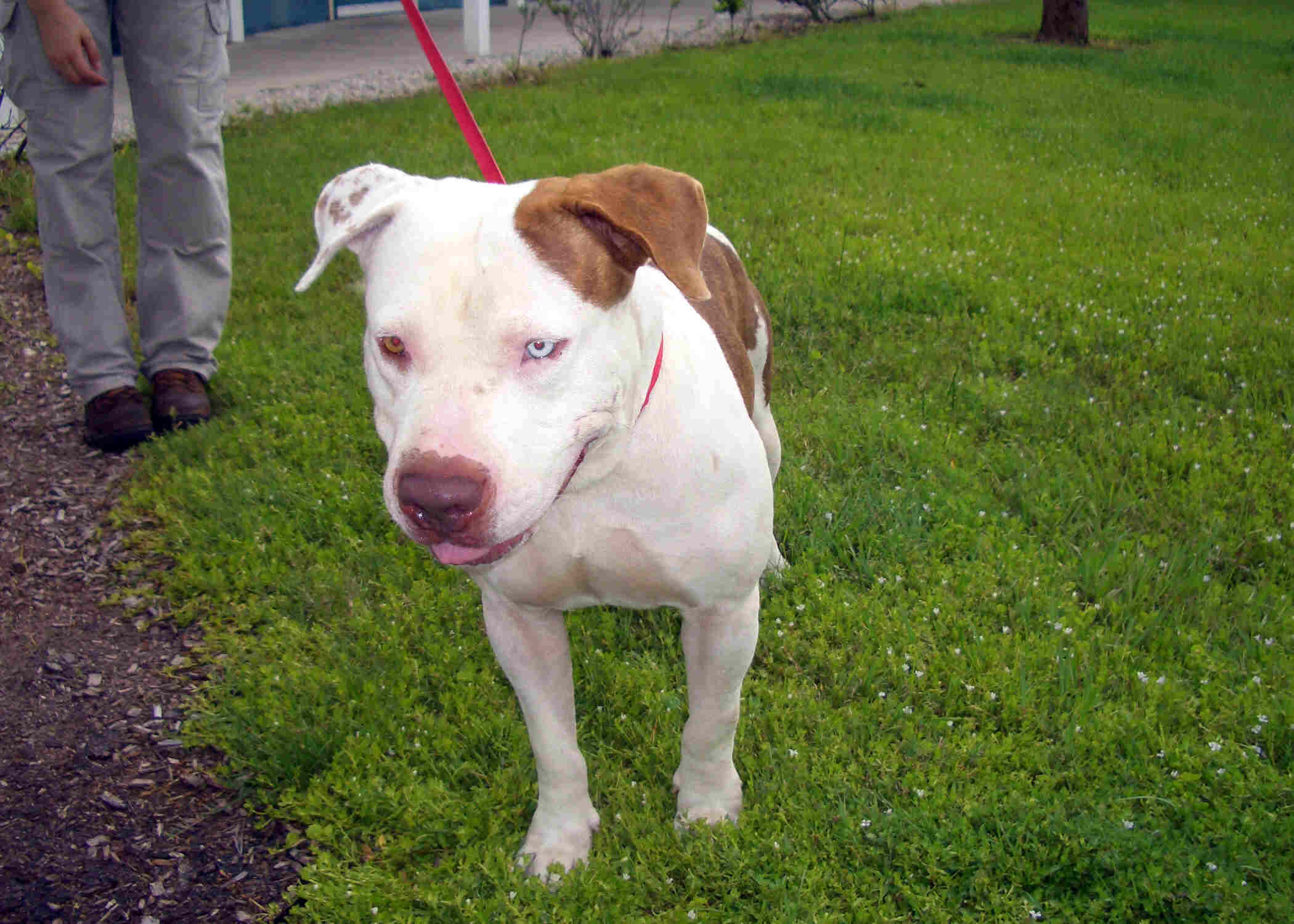 Franks' ID number is
A124070. If a RESCUE can help us out there is a $200 donation to help that rescue.. He seems to be a healthy pup. Feel free to contact me and/or Sue sweatherford@comcast.net

Belen Brisco
Dogs Deserve Better
SW Florida Representative
www.dogsdeservebetter.org
239-247-2080
Kathy
www.myanimalsrock.org
305-401-4693
"No one makes a greater mistake than he who does nothing because he can only do little". Edmund Burke

SHIM SHIN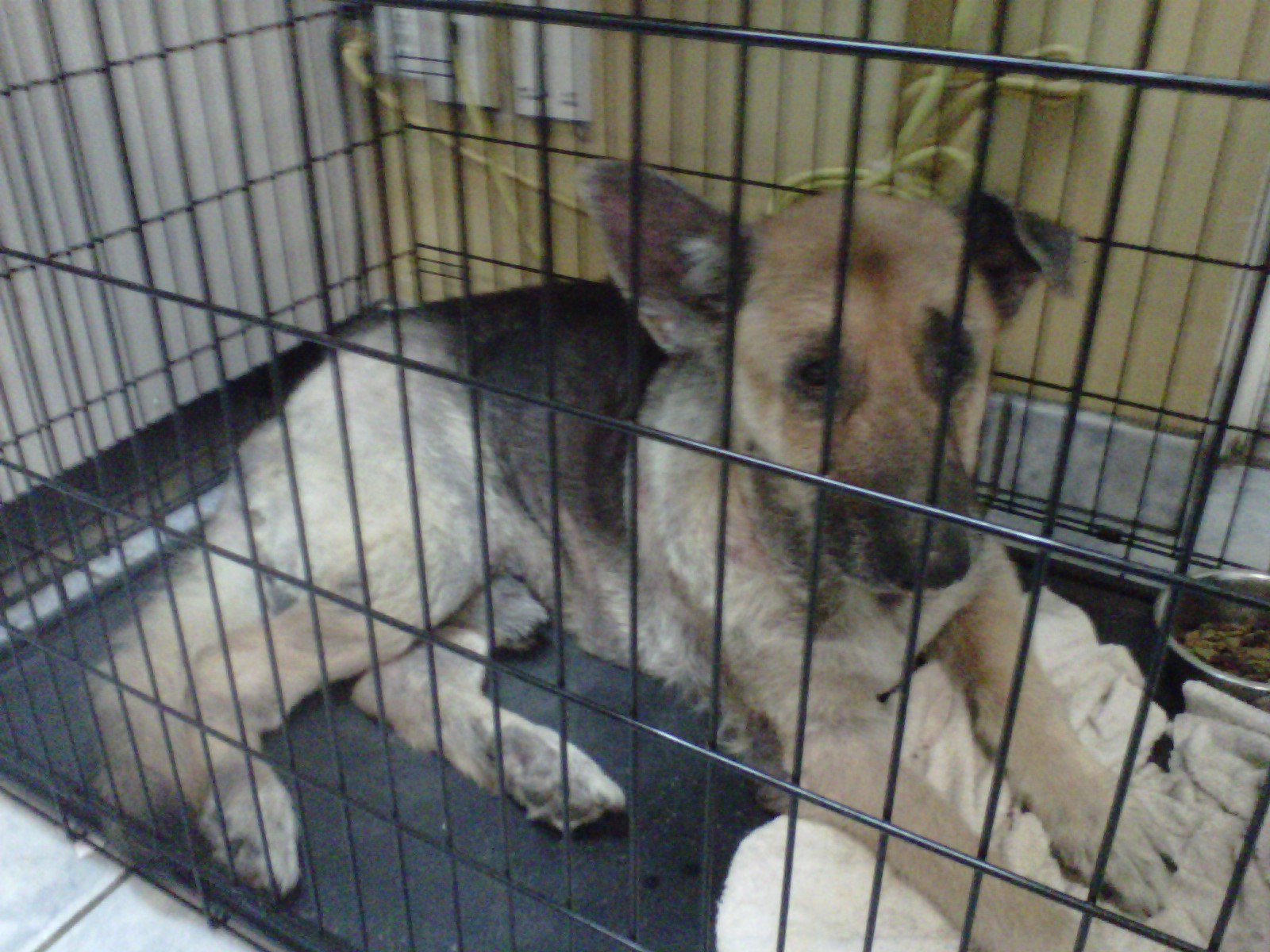 Look at this poor dear boy Shim Shin. He is an 8 year old papered German Shepherd whose family, after six years of living as the indoor family dog, decided that he smelled and put him outside to live. He had a bucket of food and water and was never allowed in again. He lived outside for the last 2 years of his life and 3 weeks ago they delivered him to the vet's office to be euthanized because they were leaving the country. The vet convinced them not to kill him, but to let them find a home for him. He is now living in this cage waiting for someone to deliver him from this horrible existence. He is great with other dogs and cats and knows all his commands. He is very healthy although he on the older side.
If anyone would love to have a senior boy that is full of love,
please contact me, Kathy, 305 401 4693
My Animals Rock, Inc., 501(3)(c) non-profit corporation
www.myanimalsrock.org KathyMy Animals Rock, Inc., 501(3)(c) non-profit corporationwww.myanimalsrock.orgklcremer@aol.com305 401 4693http://www.petfinder.com/pet-search?shelterid=FL879"No one makes a greater mistake than he who does nothing because he can only do little". Edmund Burke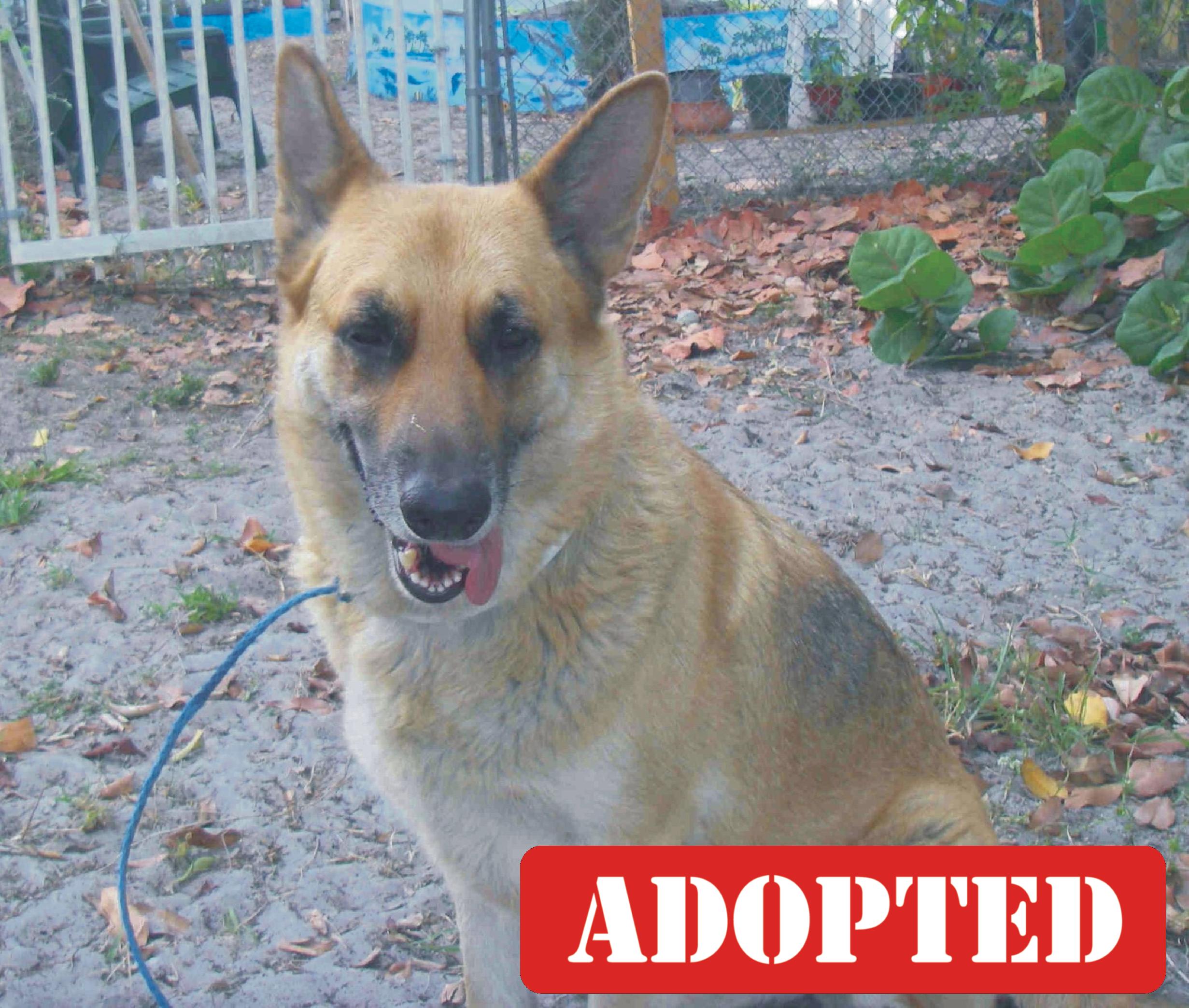 Kahlua
Hi, My name is Kahlua and as you can see I am a beautiful purebred German Shepherd. I am a big girl probably around 80-90 lbs. I am about 4-5 years old and had a family at one time, so I am perfectly house trained and good with kids and people. I am a little curious about cats and would like to play with them but no one lets me do that. I am not aggressive with them though. I like some dogs too! I am being trained by Annie and Edel of www.K9ADVISORS.com I am getting dog obedience training, and will be a perfectly obedient dog for you and your family.. did I mention I love kids?? My prior family just dropped me off in a strange neighborhood one day and never came back to get me. I found a vacant house and was hanging out there when a very nice person started to bring me food and water everyday. I was there for a couple of weeks until he brought me to the shelter, where I am living now. I sure miss living with a family as I was meant to be a family dog. If you want to share your family with me, I would love to be invited to come home and live with you. Call Kathy at 305-401-4693 or email her at klcremer@aol.com if you want to meet me.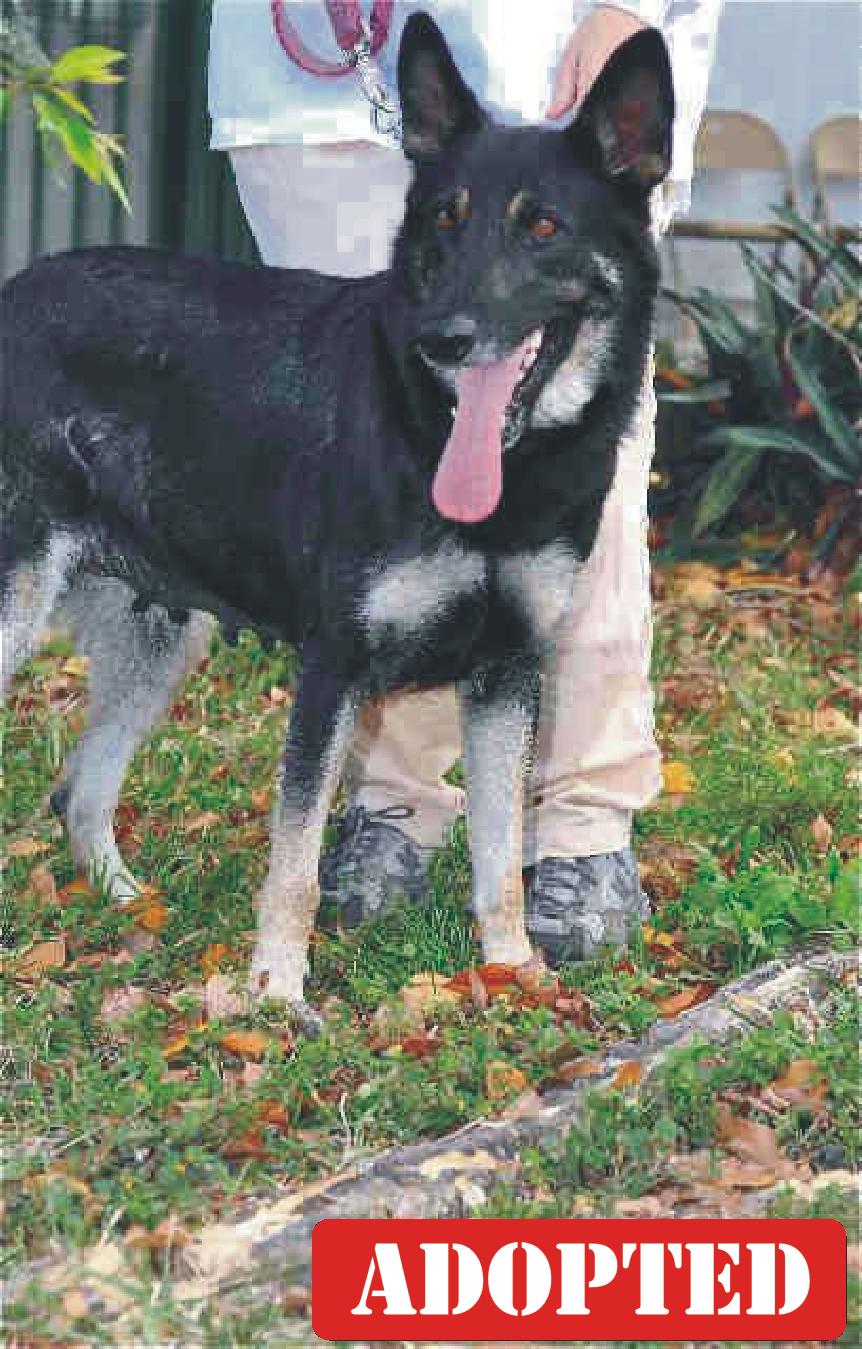 Natasha
Hi, my name is Natasha. I am a purebred German Shepherd but my last family didn't really care about me. After I had puppies they took me and dropped me off to wander around the streets far away from home, so I couldn't find my way back. But I wandered over to a shelter and they took me in and are taking care of me. They named me Natasha, I guess because it sounds so regal. And I live up to my name. Well, I look regal anyway. I still act like a pup because I am not even 2 years old yet. I love to run and walk on a leash and just have a good time. I am a friendly girl and love people and kids. I am being trained by Edel ( my favorite trainer) of www.K9ADVISORS.com and my new family will get a chance to meet him because they get a free training session with him. Edel says that I will be good with some dogs and that I am trainable with the right cats, but I am a little curious about them right now. But whatever, I love people and that is enough for me. I weigh about 50lbs and I won't be a big German Shepherd. I am spayed and up to date with all my shots and ready to go to my forever home. Please come visit me at Pet Rescue in Miami. You can call Kathy at 305-401-4693 or contact her at klcremer@aol.com if you want to come meet me.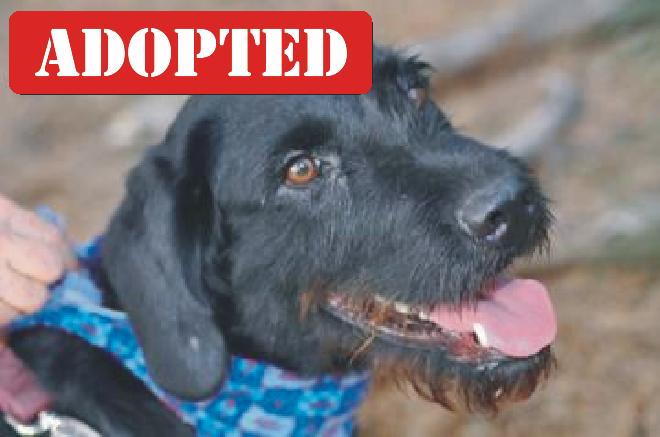 Jesse
Look at this mug! Boy am I cute! And what a personality. You would never know that I was thrown over a 12 foot barbed wire fence in the middle of the night by some unappreciative(to say the least) humans! and they call us beasts!!! It didn't feel good either, I was quite cut up, but I have recovered and am ready to get back to life. I am about a year old 45-50 lb playing machine. I get along with EVERYONE and EVERY DOG!. Haven't met a cat yet, but if you have some cats, I will see if I can oblige. Oh, yeah and I am being trained by the best trainer they tell me. The wonderful, the magnificent( I am trying to get on his good side, for treats!), the awesome, Edel Miedes.........THE k9advisor. So, if you bring me home, you get to have Edel come visit us for free and show you everything that I have learned.
If you are interested in having the best friend you ever had, call one of my many admirers, Kathy at 305-401-4693, or email her at klcremer@aol.com. I will be playing while I'm waiting!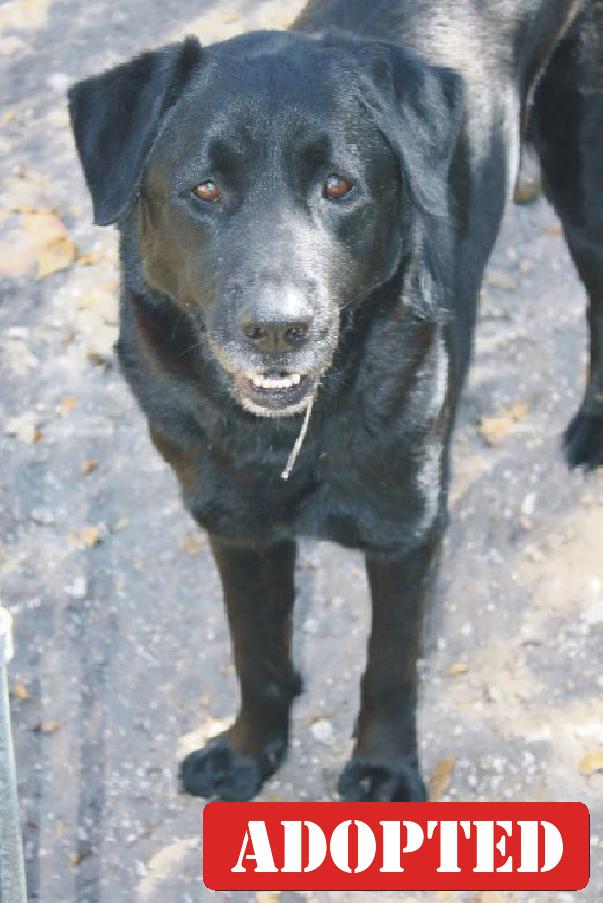 MORTY
Hi, my name is Morty and as you can see, I am a sight to behold. I have a beautiful fur coat that shines like black satin. I am a large fellow, about 60 lbs......the more to love you with! I am around five years old and I am not used to being alone, much less in a shelter. I was adopted as a puppy and spent my life so far with five other pals, girls and boys, in a big farm in Georgia. But my mom died and my dad couldn't take care of all of us, so he drove us back to a place where he knew that they would take care of us and try to find us all loving homes. Well, it didn't happen as quickly as I thought (well it did for my pals, they all found homes,). I am still here waiting for that special home and family. Cats don't bother me and I am housebroken. I am obedience trained also! I am very protective of my people when I settle in, so you will feel very safe with me around.
Please call Kathy if you want to come pick me up, I am waiting for YOU!
Kathy's number is 305-4014693 and her email address is klcremer@aol.com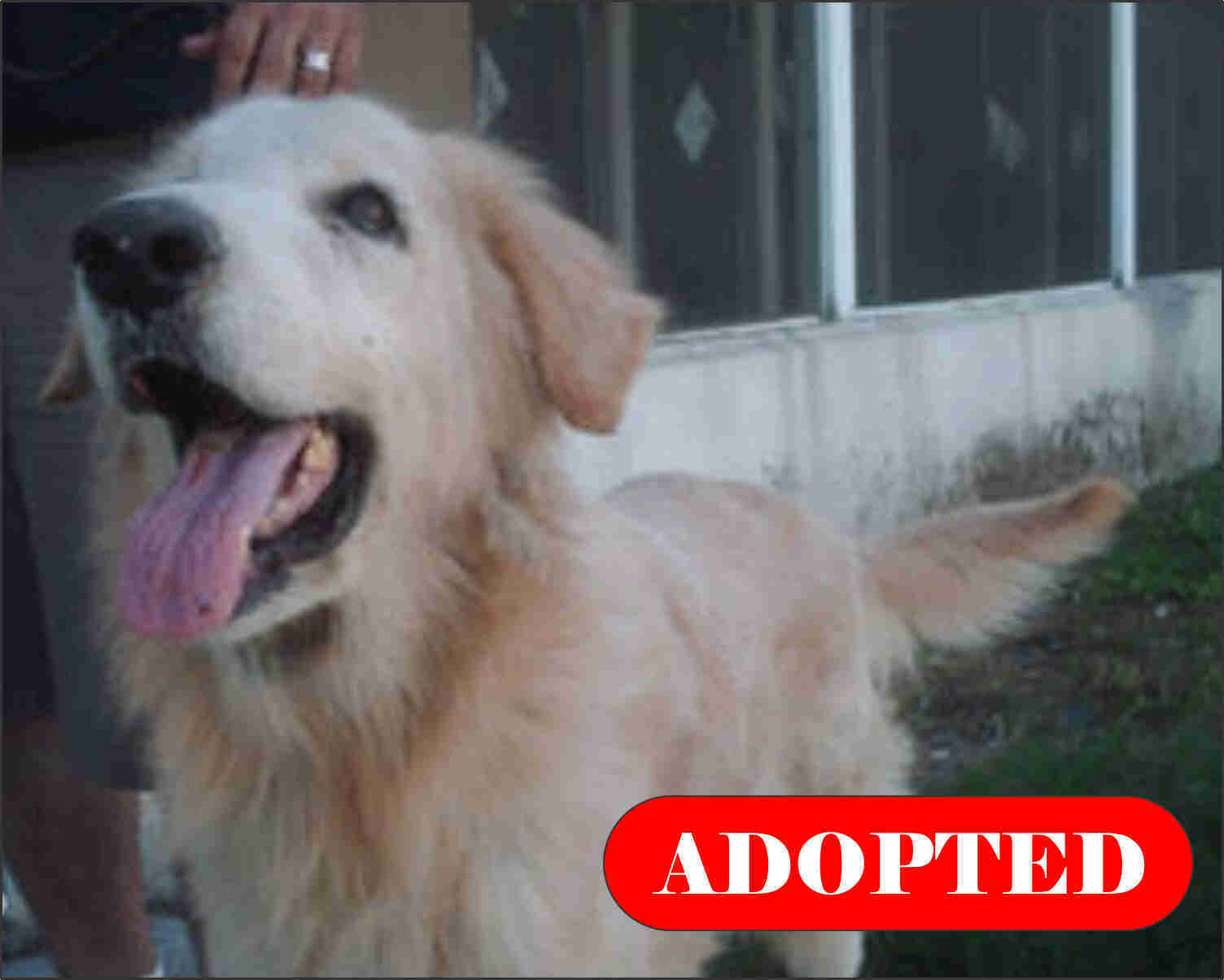 PHOENIX
Phoenix was named by the trainer that evaluated him for us...named so because he feels in the right home, with love and patience, Phoenix will soar and be the sweet golden that he once was. Due to obvious long term neglect and abuse, Phoenix is a dog that we need to slowly introduce to the comforts of home. He, we surmise, has been on his own for a very long time. We can also surmise that he was abused and most likely lived in a small space due to the structure of his back legs. He has absolutely no muscle mass and is very thin. His coat is brittle and short, but with good nutrition we hope he will have this beautiful, soft buff colored coat that he must have had at one time. This dog has amazing eyes...deep brown against his white muzzle...the intensity, intelligence and love that you feel when you look into his eyes is overwhelming. He will closely watch your every move too...very nosey and observant. Phoenix's health is not the best but there is nothing that cannot be improved. He is heartworm positive which we will treat when he is stronger; he did have a respiratory virus when he first came to us which is going away; and he does have some structural damage to his back legs and we will need to address that once he is stronger. We are hoping with attention, love, good food, exercise and good vet care, he will be able to overcome some of the health issues that he faces at the present. We will also need to address his emotional issues...he needs to develop trust and comfort. Our trainers will be working on a program for him to accomplish this and our loving, patient foster home will also be involved in his progress. He has made a huge amount of progress in the last two weeks thanks to our dedicated volunteer Jeri who has visited him every day, sometimes twice a day, walked him, worked with him and shown him what love is all about. Phoenix has bonded with Jeri...and allows her to do almost anything with him and we have hopes that he will bond with his new foster Mom as he did with Jeri. He has a long road ahead but he has come so far. GRINinc felt that Phoenix deserved one more chance and we are here for him. If you would like to sponsor Phoenix (medical care and training), please make a tax deductible donation today! Oh, also we need to let you know that Phoenix loves his tennis balls...the more the merrier, so if you wish to donate to the 'Phoenix Tennis Ball Fund' let us know!
FOR UPDATES ON PHOENIX