K9 Testimonials - K9 ADVISORS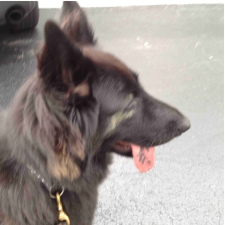 Kate and I want to take a moment (and Maddie as well) to say thank you for all your support, guidance and expert counsel in helping us, help Maddie. As you know, Maddie is a two year old black German Shepherd (she asked us to include a photo of her - she is pretty vein and hoping you post her on your website) who we adopted/rescued. Maddie is smart, stubborn and somewhat independent, making her a handful to train, but with your support we are extremely proud to say that she has evolved into a smart, independent and joyous part of our family.

When we first reached out to K9 Advisors, we didn't know what to expect, but we did hope for a knowledgeable, sensitive and professional team, that could help us help our dog. You not only met but exceeded our expectations. You were flexible, attentive and continually strived to make things practical and applicable. When we started Maddie was considered a "red zone" dog when it came to interacting with other dogs.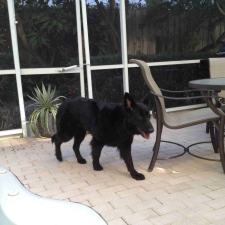 We couldn't even walk her down the street for fear of her getting into a dog fight or hurting us due to her strength and fixation on "getting" to the other dog. Maddie's transformation is nothing short of outstanding, she is able to now sit or lay down calmly as other dogs bark at her, run at her or taunt her. This has paved the way for other training and helped us better enjoy our time together.

You not only helped us solve her aggressive socialization, but also helped us stop her from running up and down the stairs when we leave the home, curtailed her behavior of opening the garage door on her own and trying to escape, established boundaries for when we leave the house and return, so that she greets us properly and doesn't storm on people when they come to the house at the front door.

When we started you and your team were "trainers" and through out our experience you have always remained professional and caring. As we bring this chapter of Maddie's training to a close though, we all feel that you are not only "Maddie's Trainers" but our "K9 Advisors" and friends.

We look forward to working with you further in the future and would be happy to provide a reference to anyone considering your services.

John and Kate….and Maddie.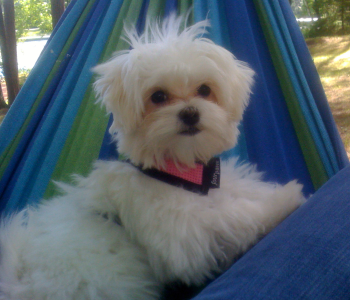 Dear Edel:

Lee and I wanted to send you our thanks for your help these past months with training Miss Abby. You have done an amazing job for us and we look to continuing to put to use your helpful hints and tricks. You know if we don't do a good job, you'll be back to help us some more. I'm sure we'll eventually get it!!!

We wanted to compliment you in your work. You definitely picked the right field for your personality and skill. You're even better than the Dog Whisperer! Miss Abby knows EXACTLY when you are there. We're just so happy she finally got over her fear and fell in love with you too.

We strongly recommend your services to any pet owner. Our little Maltese will grow to be a good & obedient member of society.... in part due to your guidance. We can't thank you enough.
Lisa B.
ASAP Marine Documentation & Registration, Inc.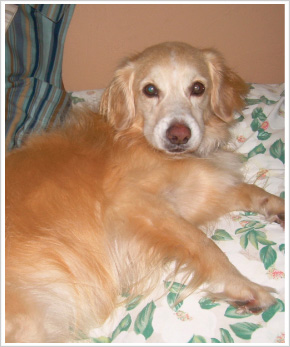 K9 Testimonials
K9 ADVISOR saved Max's life. This is not an understatement. It's not a statement made more dramatic for effect. It is literally true. Max was on his way to the humane society to be euthanized because he was incorrigible. Cujo. Frightening to the neighbors. A nuisance. Edel Miedes changed all that because he told me there wasn't a dog he couldn't train, it was the humans that sometimes gave him problems! Before Edel, Max spent most of his life relegated to the backyard, because I couldn't walk him without fear of him lunging at people or barking. Even in the backyard, he was
always "on guard" and prowling for the least little thing to bark at. My neighbors' kids taunted each other to run alongside the fence as Max barked crazily and jumped at them to prove who was tough. Of course, to me and my family, Max was just a 35 pound wimp. It was only when he was around other people that he acted this way. Which of course made it really difficult to have anyone come to the door, visit, or peer over the fence to chat. After the "final straw" when Max escaped from our fenced yard and jumped on the neighbor's 75 pound lab mix and pinned her down one morning (although he left her without a scratch), all while my poor neighbor was screaming for help. My husband and I agreed that something had to change. At the time our son was 18 months old and although Max had always been sweet and gentle with him, my husband and I felt we couldn't take the chance of something happening. My neighbor said that if any thing ever happened like that again, her husband was prepared to shoot Max. After many tears and consultations with my vet, I couldn't do what I knew had to be done. Our vet, who had cared for Max since about four days after he had been born in our living room, said there was nothing that could be done to change the "personality" of an aggressive dog. I kept trying to make a case for Max really being "a sweetie", although no one outside of my husband and I had ever seen it. That's when fate stepped in. I knew that if I took Max to the local Humane Society, he would be put down. Nothing about the environment would make him adoptable. The answer was our local no-kill shelter, Dogs and Cats Forever. Except it wasn't. I spent enough time crying in my car in the parking lot of Dogs and Cats that a staff member had to come and tap on my window and ask me if I was there to turn in my dog. I couldn't even get the words out. Fortunately, and this is what I mean by fate, Max was his usual self. Barking, growling, and then hiding behind me. The staff decided they couldn't take him. They knew that with his "personality" he'd spend the rest of his life at the shelter and potentially hurt a staff member of another animal. They sent me away, but not empty-handed. I had a business card for K9 . And that's when Max's life, and my family's life, turned around. After speaking with Edel, he gave me confidence that he could do something to help Max. He took him for over two months and worked magic. It wasn't all work on Max either. Edel worked with both my husband and me on how to handle him. Most of his bad habits and behaviors were a direct result of things we had done, unintentionally, to cause them.
When Max returned to our home, my neighbor and her kids were able to pet him and he just sat patiently while their dog went nuts this time! Kids on bikes rode by and he didn't even seem to notice. Obviously, that "old dog" and "no new tricks" adage is not true because Max was 7 years old when he started his new life. He sits on command and stays in a designated place until you tell him to move. But really, the obedience stuff is not the most important or noteworthy as far as I'm concerned. It's the fact that I can take him for a walk, let him play in the backyard, take him to the groomer and know that he will behave. My neighbors joke that we actually have a new dog that just looks like Max! The best part is that Max can be a part of our daily life because he is so much better behaved. What Edel accomplished with Max was a result of patience, consistency, and love. We will be forever grateful and can't say enough to recommend giving what he has to offer a try.
-Vickie Rodriguez, pet owner
K9 Testimonials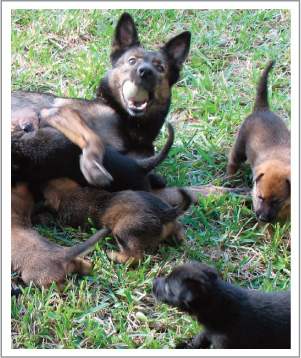 What a difference one lesson made. Tera is very happy this morning. Her obedience in the house has gone back to normal, she is actually listening to me on the first command. She's actually trying to please me again. Amazing. Lesson learned on my part. She is a working dog. I have to train/work her every day to bring out the real Tera.
Thanks again!
-John A. Hope
President
Innovative Home Solutions LLC
Miami, FL
786-371-3067
K9 Testimonials

Hello Edel:
Just wanted to drop you a note to say THANK YOU SO MUCH for the patience, insight and invaluable time and information you have been kind enough to share with us. Pasha will be a happier dog because of our new knowledge. We have been diligent and worked with him every day. Tonight he was exceptional! Lots of cars and a three year old a new mini sized motorized bike. Crazy. But Pasha did not bark, he SAT and watched with great interest. Do stay in touch! We will keep you posted on progress. Thank you again Edel

-Carie, pet owner
K9 Testimonials

Edel,
Thanks so much for making the time today to come and tour my place and mostly, to work with Skittles! We are her last stop before a home and she needs the help, all of it! Thanks for showing us what a good girl she has with so much promise. I have to admit, she was one we were not giving adequate attention to as far as training goes. So, I appreciate it all and am sure we'll be talking soon. After all, now that Bernie's coming i'm sure we'll see a bunch more of you!!!!!

Thanks again!

-Jamie, Pet Lover Central, Boca Raton
South Florida's PREMIERE Cageless Dog Day Care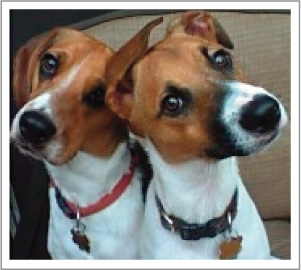 K9 Testimonials
Well, just to let you know... .the boys and I walked around the whole complex (about 1 mile). SUCCESS... they both stayed in line and I was able to control them when distracted... he! he!... Let's just say it was a good night. Thanks. Lotsa Love from the boys and I....
-Rose Marie, pet owner
K9 Testimonies

I'm happy to tell you that I followed your advised and went and got a CRATE for Charlie and the wet food to mix in with the dry food. He ate in front of me and I went down along with the paper towels soaked in pipi and followed your instructions. Not only I got pipi all over my hands but many dog lovers at that time of night stopped to see what the hell I was doing and you know that estos americanos any chance they get to get close a la mujerona they take so I was not that glamorous con la bolsa de pipi y el charlie pero todo mundo tenia que ver en el training. Bueno, after that me fui upstairs a lavar las manos y whatever. and by the way, el Charlie did smelled un pochito pero no hizo NI MIERDA. bueno, me dormi y alla como alas 3 in the morning senti un lump in my back y era el Charlie que he got out of his little bed and he came over to cuddle with me!! I guess he is getting closer to me or realizing that I'm his owner. Bueno, this morning me levante I did my coffee and took him to the kitchen and gave him water and food. I went to the bathroom and found him haciendo pipi!!! Now I realized that it was my fault but now I know! so tonight let's see if he goes outside because I'm not going to let him alone for a SECOND! hay but he is so cute!

Edel, I'm so happy to tell you that Charlie is fully trained in both potty and the leash!!! I did exactly what you told me to do without giving him any slack and he is the perfect dog!!! he loves to go on walks with me, he plays and he is the most happy dog that you can think of!!! Thanks for that talk that you had with me!!!!

Anna Salinas and her dog Charlie - North Carolina
K9 Testimonials