Community Involvement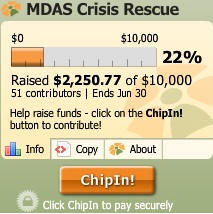 Dear General Public, Animal Advocates and Members:
As you know, Miami Dade Animal Services was and will be in crisis mode. All the animals were taken out of the shelter and they were either adopted or into rescues. This was a direct result of the massive support from the general public, a handful of caring Miami-Dade County politicians, Vets and Boarding facilities, the MDAS staff and the fabulous rescue groups.
The Miami Coalition Against Breed Specific Legislation, NKN , The Miami Voice, Heidi's Legacy, 1Luckydog, FurAngels, APR, Underdog, WeeWaggin, Second Chance, and hundreds of other animal advocacy orgs, heeded the call to save these innocent animals from being euthanized thru 5 days of tears, sweat and no sleep . The animals are safe with them. However, we fear that these animals in the general populations' hands are at a high risk. Even with good intentions, they do not have the knowledge or may not have the funding to deal with disease ridden animals. Therefore, we are requesting that, effective immediately, a bulletin be mailed to ALL Miami-Dade County residents, warning them of a possible outbreak of infectious diseases. Some of the warnings should be, vaccinated your dog now, do not socialize your dog with other unfamiliar dogs, if your dog displays any symptoms immediately take to a Vet, and refrain from taking them to public places. Speaking of that, ALL dog parks should be shut down for the time being…this is an excellent preventive measure. The virus is out there already…we need to control it as best we can. Protocols must be in place.
I am imploring MDAS and Miami-Dade County to allow for rescue groups to continue not being charged any pull fees. This I am sure can be arranged. They have their hands full with the incurred expenses as a direct result of this manmade disaster.
On behalf of our organization, and all others involved in this mass effort…we thank you for your assistance and the will to save these sentient beings.
God Speed …
In Hope and Commitment,
Dahlia Canes
Director for the Miami Coalition Against Breed Specific Legislation.
Tax ID: 27-1081950
Demonstration at Miami-Dade County Commissioner BLDG in Downtown Miami protesting the poor leadership of Miami-Dade Animal Services
Well, this was a demonstration at Miami-Dade County Commissioner BLDG in Downtown Miami protesting the poor leadership of Miami-Dade Animal Services (MDAS) director, Sara Pizano, and the inhumane treatment of so many animals that are cursed to have to go through that shelter everyday. This all came about after an employee of MDAS witnessed inhumane killing of many cats through a method of killing called heartsticking. This is a process by which the killer (or euthanasia tech) takes a very large needle and rams it through the animal's chest cavity and into the heart injecting the poison to kill the animal. In Florida, it is legal to use the heartstick procedure as long as the animal is sedated prior to sticking that needle in their heart. MDAS was caught on their own video camera (in the euthanasia room) killing many cats by ramming this heartstick in them while still completely awake with no sedation. This is not only against Florida law, but it is also one of the most inhumane methods of killing animals. The worst part is that Dr. Sara Pizano, a licensed veterinarian and director of MDAS, fired the whistle blower, kept the inhumane killer (euthanasia tech) as her employee and disconnected the cameras so no one else would be able to see the horrors of death that occur in that shelter's euthanasia room. For this, and many more reasons of animal abuse and inhumane policies and procedures that have bene implemented by Sara Pizano, we, the concerned animal advocates of South Florida, want Sara Pizano removed from her position ASAP!!
BROWARD COUNTY COMMISSION
NEWS RELEASE
Parks and Recreation Division, 950 N.W. 38th St., Oakland Park, FL 33309
Phone: 954-357-8100 ? Fax: 954-561-5359 www.broward.org/parks

FOR IMMEDIATE RELEASE

Date: May 18, 2009 Phone: 954-357-8115
From: Michael Mills E-mail: mmills@broward.org

There's Etiquette, Then There's Petiquette - For pooches Emily Post would be proud of -

WHAT: Don't know the difference between a finger bowl and a doggie bowl? Then you need to check out the latest round of Dog Park Petiquette Classes, a free series presented by the Broward County Parks and Recreation and Animal Care and Regulation divisions, in partnership with the Pompano Pet Lodge & Doggie Daycare and the K-9 Advisor. You'll learn the "How-To Formula" for a safe and enjoyable experience at a dog park, including information on a variety of topics: your body language and how it affects your dog; the proper introduction to a group setting; aggression and dog fights; overheating; your dog's health; and more.

Classes, each of which includes a lecture followed by a question-and-answer session, will be held from 7 to 8:30 p.m. on Wednesdays, July 8, September 16, and November 18 at Fern Forest Nature Center in Coconut Creek; and on Thursdays, June 11, August 20, and October 15 at the Anne Kolb Nature Center at West Lake Park in Hollywood. Follow-up dog park visits will be held the Saturday after each class.

WHERE: Anne Kolb Nature Center
751 Sheridan St., Hollywood
954-926-2480
and
Fern Forest Nature Center
201 Lyons Rd. South, Coconut Creek
954-970-0150

WHEN: 7-8:30 p.m.
Wednesdays, July 8, September 16, and November 18 (Fern Forest)
Thursdays, June 11, August 20, and October 15 (Anne Kolb)

WHO: For all ages.

HOW: Preregistration is required.

For further information, call the Parks Animal Care Section at 954-938-0617. The nature centers are accessible via Broward County Transit Route #12 (Anne Kolb) and Routes #31 and #42 (Fern Forest).
# # #
Individuals with disabilities requiring accommodations in order to participate in County programs, services, and activities must contact the Special Populations Section at 954-357-8170 or TTY 954-537-2844 at least 10 business days prior to the scheduled meeting or event to request an accommodation.


Miami Passes Anti-Tethering Ordinance!
The K9ADVISORS team, is volunteering to help people that chain their dogs in Miami-Dade County so they don't have their dogs taken away by the animal control. There's a new Anti Tethering law in Miami that does not allow chaining your dogs anymore - We want to help you before your neighbors turn you in. Call us today so we can help you and your dog.
Miami Passes Anti-Tethering Ordinance!
It's a great day for dogs in Miami! Here's what it says:

(a) As used in this section, tether means to restrain a dog by tying the dog to any object or structure, including without limitation a house, tree, fence, post, garage, or shed, by any means, including without limitation a chain, rope, cord, leash, or running line. Tethering shall not include using a leash to walk a dog.
(b) It shall be unlawful for a responsible party to tether the dog while outdoors, except when all of the following conditions are met:
(1) The dog is in visual range of the responsible party, and the responsible
party is located outside with the dog.
(2) The tether is connected to the dog by a buckle-type collar or a body
harness made of nylon or leather, not less than one inch in width.
(3) The tether has the following properties: it is at least five times the
length of the dog's body, as measured from the tip of the nose to the base of
the tail; it terminates at both ends with a swivel; it does not weigh more than
1/8 of the dog's weight; and it is free of tangles.
(4) The dog is tethered in such a manner as to prevent injury, strangulation,
or entanglement.
(5) The dog is not outside during a period of extreme weather, including
without limitation extreme heat or near-freezing temperatures, thunderstorms,
tornadoes, tropical storms, or hurricanes.
(6) The dog has access to water, shelter, and dry ground.
(7) The dog is at least six (6) months of age. Puppies shall not be tethered.
(8) The dog is not sick or injured.
(9) Pulley, running line, or trolley systems are at least 15 feet in length
and are less than 7 feet above the ground.
(10) If there are multiple dogs, each dog is tethered separately.

K9ADVISORS is involved with the Broward Parks and Recreation Workshop
called "Dog Park Petiquette Classes".
K9 ADVISORS holds FREE Canine Safety Classes for the Dog Beach of Hollywood
K9 ADVISORS gives FREE seminars to Home Owners Associations and Condo Associations about dog training.