Service Dog Certification Hialeah - K9 ADVISORS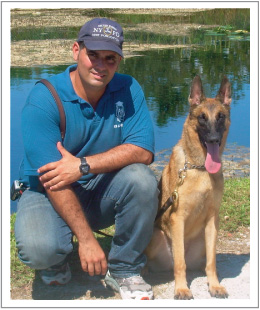 If you want a premier source in service dog certification in Hialeah, than end your search today. Here at K9 ADVISORS Dog Training, we have the experienced and certified service or therapy dog trainers. Our dog trainers will build your service dog training program around your specific needs. After you service dog has been trained, K9 ADVISORS Dog Training, gives you the required documents your dog and you will need. If there should be special equipment that your dog may require, we can also get that for you. Here at K9 ADVISORS Dog Training, we work with rescue dogs and shelters, and we can match you up with the right dog for you. Call us to talk to one of our service dog trainers in Hialeah.

K9 ADVISORS Dog Training has trained thousands of dogs all over South Florida in basic to advanced training, protection and service dog training. No matter what your needs are we will train your dog regardless of age, size or breed. Call about free consultation.
South Florida dog training by an expert & behaviorist
Why Do I Need a Dog Trainer?
If your dog is exhibiting behavioral issues and you simply don't know where else to turn, K9 Advisors can help. By working with an experienced dog trainer, you will immediately notice a difference in your dog's ability to focus and do what is asked.

What We Can Do For You
We have successfully trained hundreds of dogs over the years in the Miami, Broward and Palm Beach area. We offer everything from basic dog training to solving severe behavior problems.

What Questions Should I Ask a Prospective Dog Trainer?
Anyone can claim to be a dog trainer, but here are some crucial questions you should ask before you begin a training program:
How long have you been a dog trainer?

What is your specialty?

What approach and equipment do you use when training a dog?

Can you provide at least three references, including one from a training/boarding facility, a veterinarian, and a client with a similar dog training situation such as mine?
K9 Advisors is happy to provide you with all of this information. Call us today to learn more about our results-oriented dog training program
Puppy Training
Training Puppy to Walk on Leash
Puppy House Training
Excessive Barking
Puppy Crate Training
Puppy Command Training
Puppy Obedience Training
Puppy Jumping Problems
Puppy Biting Problems
Puppy Potty Training
Puppy Digging Problems
Dog Training
Severe Behavior Problems
Separation Anxiety
Dog Obedience Trainer
Stop Dog from Chewing
Dog Behavior Training
Dog Command Training
Walking Dog on Leash
Dog Aggression Problems
Digging Problems
Excessive Barking